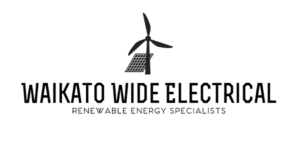 https://www.waikatowideelectrical.co.nz0800 001 823
Ecotricity partners with Waikato Wide Electrical!
Owned and run by Michael and Allana Sluys - Waikato Wide Electrical prides itself on being professional Electricians with a passion for Renewable and affordable Energy.
They have over 15 years experience helping Waikato Home Owners with affordable electrical services and smart ways to help them save money from solar panels to heat pumps, SmartVents to LED lighting.
Waikato wide has a dedicated and professional team of installers offering only the best solar hardware available in New Zealand.

Ecotricity - making the most of WIND and HYDRO to support the uptake of SOLAR
Ecotricity and Waikato Wide Electrical have come together to bring some of the best solar grid offerings includingecoSAVERandecoWHOLESALEsolar combinations. When the sun isn't shining then Ecotricity tops up your home or business with New Zealand's ONLY carboNZero Certified electricity sourced from wind, hydro and solar generation.