Notice for ecoWHOLESALE / ecoZERO customers
Posted on April 08, 2021
Ecotricity ecoWHOLESALE / ecoZERO (spot price) calculations washup
Ecotricity is proud to be New Zealands first (and only carboNZero Certified) retailer to allow solar generation customers to export their solar panel excess consumption directly onto the spot price wholesale market.
Ecotricity is also one of the only electricity retailers to transparently pass on network fees at cost.
In May 2020 Ecotricity migrated to a new and advanced billing system which will further support solar generation.  However in doing so we have**marginally overpaid**in error for your solar export credits.
This effectively has added extra kwh export volumes for your solar export volumes, when in fact the export**export loss factor**for solar should be nil.
The correction has been adjusted on the next bill with the following reference line in blue which has calculated this adjustment, similar to the example below.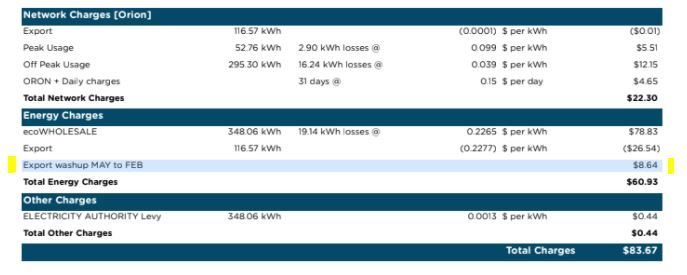 Please contact us if you require further clarification on 0800 845 000 if you have any further queries regarding this adjustment.
Apologies for the inconvenience
Team Bring Change
Ecotricity