What does 100% carbonzero Certified Electricity mean?
Sustainability
We are New Zealand's ONLY provider of carbonzero Certified Electricity …. and we're proud of it. We are also carbonzero Certified as an Organisation.
Carbonzero certified electricity demonstrates to our customers that electricity from Ecotricity is certified carbon neutral on an annualised life-cycle basis.
Being carbonzero certified means we purchase from specific wind, hydro and solar generation sites and we measure all greenhouse gases associated with the full lifecycle of those stations.
We have detailed programmes in place which follow United Nations Product Protocols to measure and minimise our greenhouse gas emissions.
Any remaining emissions that can't be avoided are offset by purchasing verified carbon credits, using only New Zealand Native Bush Carbon Credits, making Ecotricity not only carbon neutral but supporting New Zealand's biodiversity.
Have a look at the difference in emissions from National Average electricity and Ecotricity carbonzero Certified Electricity below.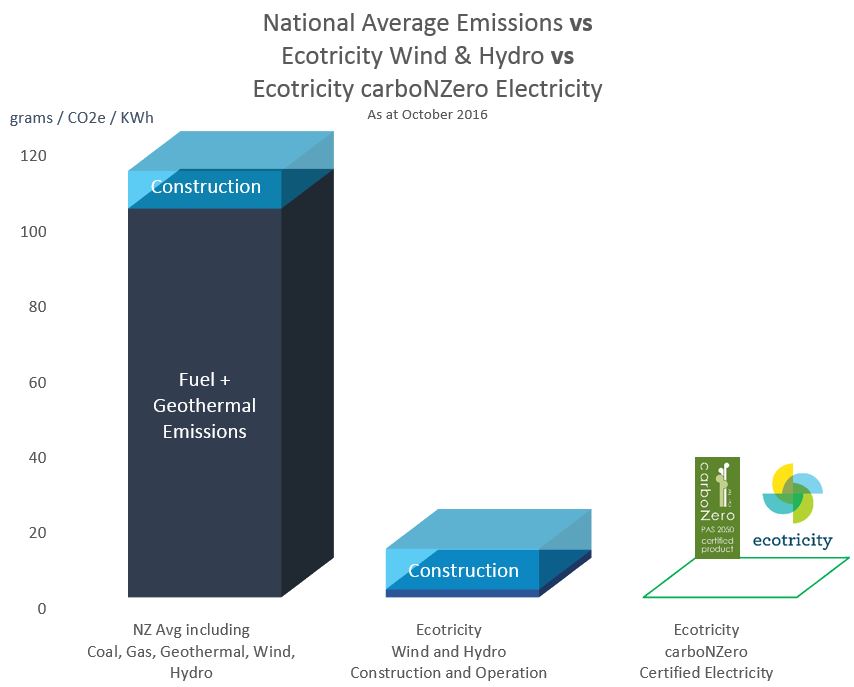 We've also just won, not one, but Two Sustainable Business Network Awards which recognises the efforts we are putting into Community Ownership, Transport Electrification and supporting the developing of Renewable Energy.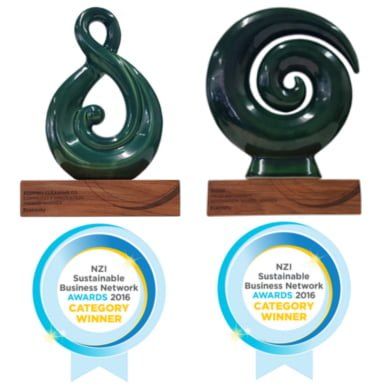 Zero Impact
At Ecotricity we strive to be the best in the electricity industry with regards to environmental and social impacts. Sustainability is core to our company, all employees have a responsibility to ensure we meet our carbon neutral commitments.
More specifically our commitments include:– All our company vehicles are plug in EV's or PHEVs– We help educate Kiwis about emissions and how to reduce them– We share our EV / PHEV vehicles with customers to spread the word– We minimise air travel and tele-commute where possible– Paper printing is kept to a bare minimum– We recycle all waste where possible
Questions and Answers
The important thing is to talk truthfully about why you choose to use carbonzero Certified Electricity. We recommend that you consult and follow the Environmental and Carbon Claims guidance produced by the Commerce Commission at Fair trading act fact sheet

We thoroughly recommend you promote to your customers that you are "Powered by 100% carbonzero Certified Renewable Electricity"

You can also make general claims that you are purchasing renewable electricity from carbonzero Certified Organisations such as Ecotricity.

Contact our [email protected] team and we can help you with providing marketing information for your company to show your commitment to a renewable future.

No, you may only use the carbonzero logo if your organisation or product/service has achieved carbonzero certification. Using the carbonzero logo is making a claim that you are carbonzero certified. Under the Fair Trading Act 1986, you are required to substantiate any environmental or carbon claims at the time of making the claim. The carbonzero certification logo is included on your Ecotricity invoices and you may display those, but you may not use the logo in any other context. You can learn more about carbonzero Certification and contact the programme here: https://www.enviro-mark.com/what-we-offer/carbon-management

In addition to the assurance you receive that all the life cycle emissions associated with the electricity have been accounted for and offset against rigorous international standards, your use of carbonzero Certified Electricity may be recognised by other schemes. For example, you may gain points when being assessed by your customers, when bidding for procurement contracts, and when applying for other recognition such as through the Green Building Council's Green Star Programme.

No. Using carbonzero Certified Electricity is definitely a big step towards addressing your overall environmental impact, but it may not be the only climate change action that is relevant to your operations.

The first step is to measure your own GHG footprint, understand which are your most significant impacts and implement an action plan to address these. Here are a couple of ideas to help you do this;

Take a look at our energy carbon calculator here.

Check out how much you can save by switching to an electric vehicle here.

Purchasing carbonzero Certified Electricity is not a green light to use as much electricity as you like. Energy efficiency and avoiding the use of non-essential appliances is still important. Becoming more efficient could mean driving less, using less electricity, consuming fewer resources, composting, and reusing/repairing/recycling. The next step is using other renewable energy sources for non-electricity energy use (for example, biodiesel or solar water heating).

Using renewables and switching to electric transport are the best ways to avoid the negative impacts of fossil fuel use.

For other sources of GHG emissions that you cannot avoid, for instance air travel, using credible carbon credits to offset these emissions is an option. Various carbon credits are available, including from projects that are helping to restore New Zealand's indigenous biodiversity while absorbing carbon dioxide.

Only 18% of New Zealand's total primary energy is supplied by non-thermal renewable sources including electricity generation.

However, only 65% of electricity generation comes from non-thermal renewable sources such as wind, hydro and solar (EnergyLink 2016). The remainder of our electricity is generated by coal, gas or geothermal which together emit over 4,000,000,000 of CO2e per year. Further, electricity consumption is increasing in line with economic development and there is a great opportunity to reduce New Zealand's increasing emissions profile due to the use of liquid fuels by shifting to other innovative technologies such as electric vehicles.

The New Zealand Government is exploring ways to increase the uptake of electric vehicles. As consumption rises, more renewables need to come on stream in order to maintain and increase the current proportion of renewables in the New Zealand electricity mix. As explained in Question 1, there are GHG emissions associated with the production of all sources of electricity.

Choosing carbonzero Certified Electricity signals that you care about the source of your electricity and that you prefer an electricity source where all the emissions associated with its production and distribution have been accounted for and offset.

Help us take New Zealand closer to being 100% Renewable. It's time to join Ecotricity.

carbonzero Certified Electricity shows that the electricity provider has calculated and offset all the life cycle emissions associated with their electricity product. This includes the emissions associated with the construction of the generation source, its life-time operations and electricity distribution and losses to the grid.

carbonzero certification provides customers and consumers with assurance, backed up by independent accredited certification, that the emissions associated with the electricity that they purchase have been calculated and offset according to rigorous international standards. The provider of the carbonzero Certified Electricity, in this case Ecotricity, must undergo annual verification to maintain its product certification.

Yes! For carbon accounting purposes however it is a two-step process as follows.

You still need to use the national grid average conversion factor to calculate your GHG footprint for all public reporting.
This is offset to zero by all the carbonzero Certified electricity you purchase from Ecotricity

If you are seeking carbon neutrality or carbonzero certification for your own organisation or your own product/service, you are not required to offset the carbonzero certified electricity that you have purchased from Ecotricity. This is aligned with an international best practice including the latest standard from the international GHG Protocol which allows both the location-based (grid average conversion factor) and supplier based (supplier-specific conversion factor) calculations to be reported.

The good news is that this means that if you are seeking carbonzero certification, no carbon offsets are required to be purchased by your organisation for your electricity purchased from Ecotricity. This can mean direct financial savings for companies seeking to be truly carbon neutral.

Your carbon emissions are being compared to the national average electricity CO2e intensity for the month.

What this means is – all of the kWhs (units) of electricity for the month are measured as well as the amount of CO2e emitted in producing that electricity. This can tell us on average how many grams of CO2e are emitted per kWh produced.

We can then take the number of kWh you have consumed in the month and multiply it by the months intensity and create an estimate of the amount of CO2e you have avoided.

Can we guarantee each electron comes from only renewables? No. However, because electricity is a fungible / interchangeable commodity throughout New Zealand we are able to very accurately account for how much we are supplying our customers and conversely directly contracting through power purchase agreements from renewable resources such as wind, hydro and solar. The net effect therefore is that we are only supplying from certified renewable sources.

Compare it to a $10 note which you deposit into a bank in Dunedin, but you can withdraw it anywhere around the country. Ecotricity purchases from renewable generation but can supply anywhere around the country.

To find out much carbon emissions you can save by joining Ecotricity, check out our energy carbon emissions calculator here.

We also take into account what emissions arise from the construction of the renewable generation plant, such as concrete, steel, transport to and from the site, transmission losses etc. A very detailed piece of work goes on behind the scenes!

Our carbonzero Certification for Electricity is based on international protocols for supplying electricity from purely renewable sources. It is done in many overseas markets including Australia, the US, Europe and many other markets. The carbonzero Certified Electricity programme has also been peer reviewed by an overseas expert. It is based on the fact that any electricity we sell, is offset by the same or greater volume we directly contract with from renewable generation plant including wind, hydro and solar. The reason it is important to support carbonzero Certified electricity is so that new renewable electricity is developed, including specifically wind and solar.

At Ecotricity we are actively trying to promote a move away from gas. Gas emits up to 5 times more CO2e than electricity, as a carbonzero company we want to encourage our customers to decrease their emissions as well.

However, we do understand that getting off the gas is a big commitment to make and so if continuing to use gas is your preferred option we will be unable to supply that to you. That does not mean that you cannot get your electricity through us but we cannot offer dual packages.

If you would like to check out our pricing have a look at our website – ecotrcity.co.nz and if you select the pricing tab at the top of the screen you can enter your ICP and on the first page you can see the individual price plan for your area.

Renewable electricity generation including wind, hydro and solar generally has much lower Greenhouse Gas (GHG) emissions associated with its generation compared with thermal generation including coal, gas or geothermal generation.

Some companies claim they generate from only renewable sources; however, they may also purchase electricity from third party generation who use coal, gas or geothermal sources which emit substantial amounts of GHG emission.

Ecotricity only sources its electricity from wind, hydro or solar generation.

All types of electricity generation, including renewables, have some environmental impact including GHG emissions associated with the construction, operation, distribution and transmission of renewable electricity. The carbonzero Certified Electricity takes these life cycle factors into account as well as the GHG emissions created by the electricity provider.

No. The New Zealand Emission Trading Scheme (NZ-ETS) is a compliance scheme which currently only allocates one carbon unit for every two carbon units emitted and does not include organisation emissions including vehicle, travel and other company emissions.The carbonzero Programme is a comprehensive voluntary scheme which includes one carbon unit for every carbon unit emitted including general organisation emissions from non electricity GHG emissions plus vehicle, travel, freight and office waste emissions.Voluntary action including carbonzero Certification is however complementary to compliance obligations and therefore adds to New Zealand's contribution to international climate change commitments in the following ways:

• Participating in the carbonzero Programme empowers companies to measure and manage their own emissions and often results in product innovation and energy/ fuel efficiency measures that indirectly contribute to reducing NZ's overall emissions profile.

• Participants in the carbonzero Programme offset organisation emissions that may also be reported by the NZ Government and other emissions that are not covered in national reporting, such as international air travel, international freight, manufacture of materials overseas. All of the action taken by participants in the carbonzero Programme is additional and complementary to compliance obligations.Compliance with the NZ-ETS obligations by electricity companies that do not have carbonzero Certification does not result in their electricity product being able to be certified as carbon neutral for the following reasons:

• The methods for calculating the emissions and the "offset" required are different for the two schemes. Participants in the NZ-ETS report some or all of their direct (Scope 1 and Scope 2) emissions for their NZ operations as specified in the sector methodology. Participants in the carbonzero Programme with product certifications such as electricity, are required to account for all direct (Scope 1 and Scope 2) emissions plus the life cycle emissions associated with the production and delivery of the product including many indirect (Scope 3) emissions some of which may have occurred overseas.

• The units surrendered by companies as part of their NZ-ETS obligation are not equivalent to the offsets required by the carbonzero Programme. Participants in the NZ-ETS surrender one unit for each two tonnes of carbon dioxide equivalents reported, whereas participants in the carbonzero Programme cancel one unit for every tonne of carbon dioxide equivalents in their footprint. Participants in the carbonzero Programme therefore offset a larger footprint than participants in the NZ-ETS.

Yes. Wind generated power is always the first type of power we will buy, when the wind is blowing we want to harness that energy.

But on a still day we still have solar and hydro power available.

The consistency of power to your home or business will not change once you have switched to Ecotricity.